Selfridges Loves: fashion masterpieces
Matthew Darbyshire's new installation – commissioned for The Art Block at Selfridges London – has been unveiled, just in time for Frieze Art Fair (coincidence, much?).
The best way to appreciate art this season? By wearing it, of course. As designers get creative with their artistic influences, we bring you autumn/winter 2018's most wearable works of art to satisfy your inner exhibitionist.
Brand Deities
by Matthew Darbyshire
British artist Matthew Darbyshire's Brand Deities is the second installation to be commissioned for The Art Block (that's our ongoing partnership with Yorkshire Sculpture Park, in which we display a new work every six months at Selfridges London).
Brand Deities consists of three figurative works that play with, subvert and interrogate familiar classical symbols. Observing that many worldwide brands' names derive from mythological deities, Darbyshire has reinterpreted the typical statuary of Nike, Hermes and Mars, mimicking the layering method seen in digital printing but using traditional crafting processes.
Find The Art Block at the Duke Street entrance of Selfridges London.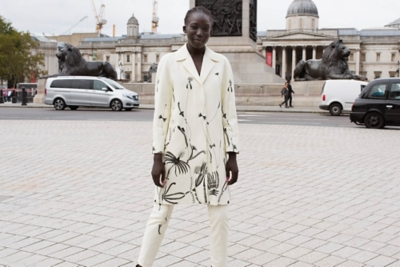 Art Brut
by Dries Van Noten
No designer blurs the boundaries between art and fashion perhaps as deftly as Dries Van Noten. One of the Antwerp Six collective (the revolutionary group of fashion designers who graduated from Antwerp's Royal Academy of Fine Arts in the early 80s), Van Noten's artistic influences over the years read like an inventory from The National Gallery – from John Everett Millais to Francis Bacon and Mark Rothko.
For his autumn/winter 2018 catwalk show, Dries Van Noten looked outside the established galleries to Art Brut, otherwise known as outsider art, referring to the work of self-taught artists. "These people have no pressure from galleries," said the designer afterwards. "You're free to make things just because you feel like it rather than worrying about making money." The intricate Biro-like prints (which took three months to perfect in his studio) look refined from afar, but upon closer inspection reveal an artfully doodled aesthetic. Genius.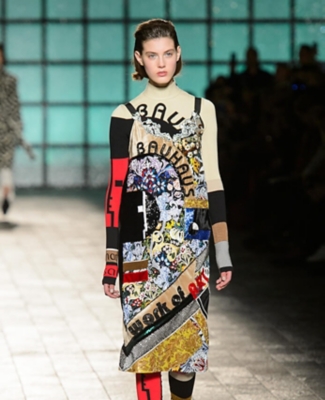 Modernism mash-up
by Mary Katrantzou
Inspired by and bookended by two schools of creative thought, Mary Katrantzou's autumn/winter 2018 show began with modernist graphics from the Bauhaus school (which celebrates its 100th anniversary of founding next year), which she artfully mixed and contrasted with the delicate decorative prints of the Arts and Crafts movement and 19th-century British designer William Morris. "I don't think anyone would put the Arts and Crafts movement and the Bauhaus together, conceptually, but I think it was the beginning of modernism, even if aesthetically it is not as visible," Katrantzou told Dezeen.
Feast your eyes on these future icons
20th-century photography gold
by Medea
Medea, the Milan-based label created by artists, models and twin sisters Giulia and Camilla Venturini, has gained a cult following for its effortlessly cool, structured shopping bags. The no-frills style creates a blank canvas for creative experimentation – and the first in a series of artist collaborations has just launched at Selfridges, featuring the work of American photographer Nan Goldin.
Goldin's vivid portrayal of New York life in the 70s and 80s explores the city's fascinating subcultures. Her unflinchingly honest portraits capture moments of intimacy and human fragility, often documenting hedonistic parties, drag queens, heroin addiction and domestic abuse. The limited-edition bags feature two of Goldin's iconic photographs. "The figures in these images face front on, a direct communication that matches the strength and sensual provocation specific to Medea," explain the brand's founders. That's what we call a fashion statement.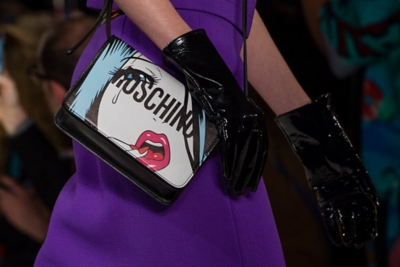 Pop art prints
by Moschino
Jeremy Scott – aka the king of pop-culture cool – continues his love affair with 1960s pop art by serving up Lichtenstein-esque prints.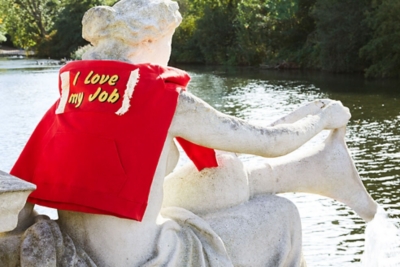 Britpop culture
by House of Holland
Back in 2006, long before Instagram and meme culture existed (can you imagine?), Henry Holland was making tongue-in-cheek slogan T-shirts for fashion insiders (who remembers 'Get your freak on Giles Deacon'?). Now, as part of House of Holland's 'T-Shirt Shop', the brand collaborates with a rolling rotation of graphic artists, poets, illustrators and creatives – the latest of which includes London-based visual artist Joe Sweeney. On his 'I love my job' hoody, Sweeney comments: "I thought it summed up the apathy towards the daily grind in Britain. I normally associate the word 'job' with something I don't particularly want to do. After about five years out of education, I've found a way that I can work through developing a visual language to communicate."

Game, set, match: the most artistic sets from the AW18 shows

The theatre of fashion is played out against some extraordinary stages. We round up the most creative catwalks of the season…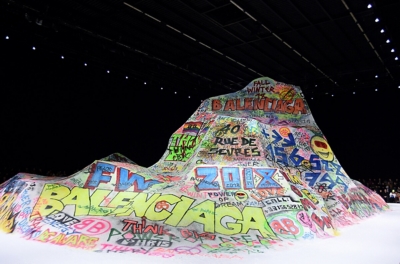 Demna Gvasalia's towering 10-metre-high polystyrene mountain was covered in neon graffiti, with slogans such as 'the power of dreams', 'no borders' and '2-gether' marking the first time the brand has shown women's and menswear together.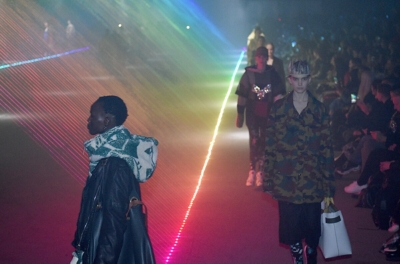 Christopher Bailey's final collection for Burberry was set against a prismatic light installation by United Visual Artists. The 3,000 multi-coloured lasers reflected the rainbow-themed collection – an homage to LGBTQ+ communities worldwide.
Nicolas Ghesquière's guests were given rare access to a disused courtyard of the Louvre, where 19th-century architecture was juxtaposed with the futuristic spaceship catwalk.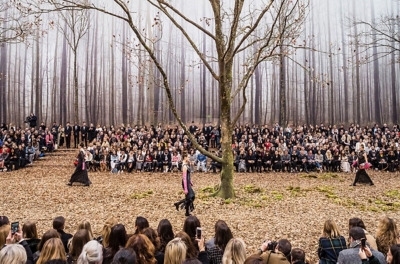 Reminiscent of a Monet painting, Karl Lagerfeld's dream-like woodland setting in the Grand Palais featured living oak trees, a catwalk covered in fallen leaves (woody aroma and all) and a giant mirror reflecting the scene to infinite effect.